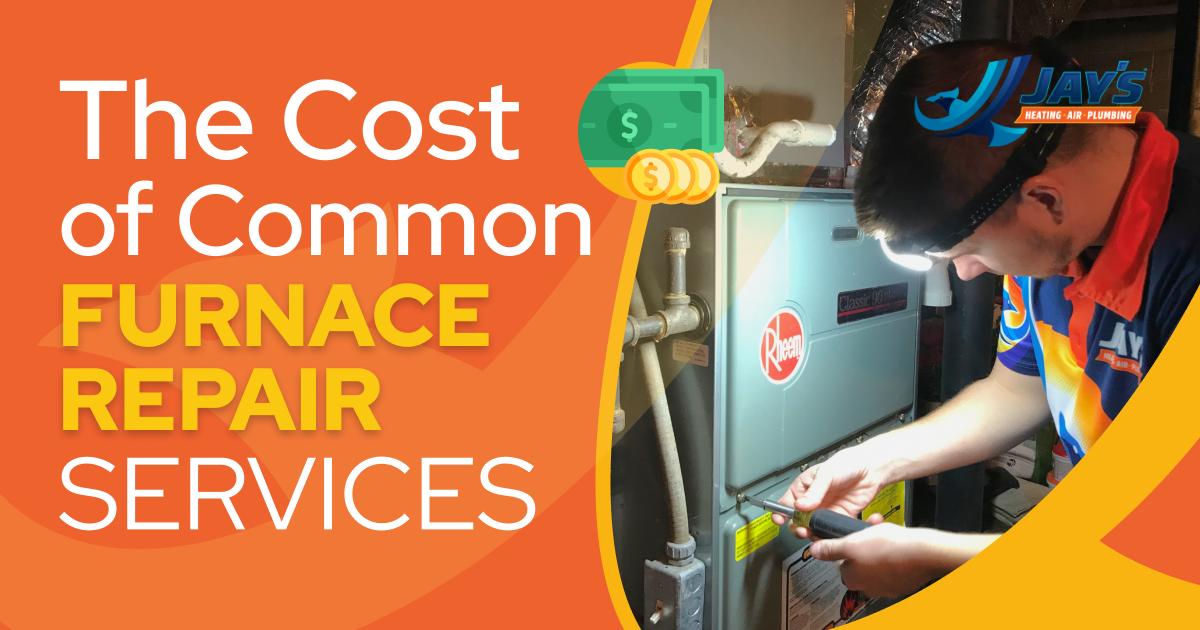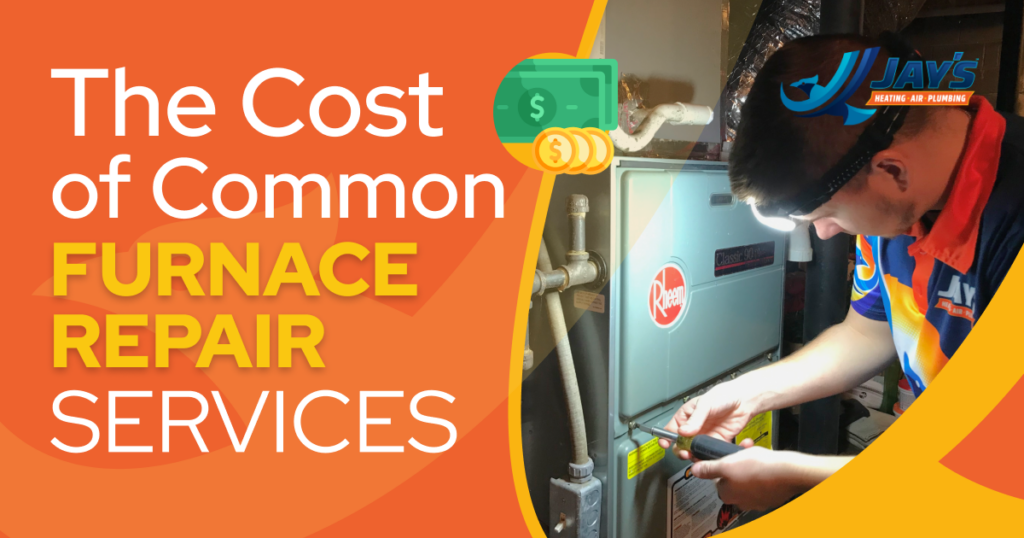 Jay's Heating, Air & Plumbing provides all types of common furnace repair services in Mount Airy, NC. People often have questions about their cost. Many factors impact what you pay for a furnace repair. We'll break down the costs of parts, emergency fees, and labor, and the price of routine maintenance to help you see how you can save.
Average Cost of Furnace Repair
According to Forbes, the average cost of furnace repair in 2023 is $150 to $300. On the high end, you could pay over $1,200 for a major repair.1 You're likely to pay more for gas furnace repair and oil furnace repair than to fix an electric furnace. However, prompt service can avoid more costly equipment issues and problems such as reduced efficiency, mold and mildew growth, and frozen pipes.
The Cost of Furnace Parts
The cost of a furnace repair service is most impacted by the part that needs to be repaired or replaced. Here's what you can expect to pay for common furnace parts:
Blower Motor: Expect to pay $150 to $450 to repair the motor and up to $2,000 to replace it.1
Draft Inducer Motor: This motor costs $200 to $500 to fix and as much as $1,500 to replace.1
Circuit Board: Repairing the circuit board, which controls the system, costs $75 to $200; replacing it costs up to $600.1
Ignitor: A faulty ignitor can be replaced for $150 to $250 to restore the spark needed for the furnace to start heating the air.1
Gas Valve: A minor valve repair can cost $75, but replacing the gas valve costs $200 to $600.1
Thermocouple: A thermocouple is a simple part. The cost of replacing it, which mostly includes labor, is $150 to $250.2
Furnace Coil: Replacing the condenser or evaporator coil ranges from $600 to $2,000+. It's an integral part of your HVAC system.2
Flue Pipe: You'll pay $400 to $800 to replace a flue pipe, depending on its length and ease of access.2
Flame Sensor: The sensor shuts the gas off when it doesn't sense a flame. It costs $75 to $250 to replace.2
Relay Switch: While the part may cost $5 to $20, the total price of the job, including labor, can range from $150 to $300.2
Transformer: A transformer, which converts incoming electricity to lower levels, generally costs under $40 but can cost $100 to $175 to replace.2
Heat Exchanger: You'll pay $100 to $200 for a repair and as much as $1,500 to replace a cracked heat exchanger that can cause a carbon monoxide leak.2
Combustion Chamber: Replacing an oil furnace's combustion chamber costs $200 to $600, with the cost of the component ranging from $100 to $200.2
Emergency Fees and Labor
When your furnace breaks down unexpectedly, you can't wait for repairs. Your home may get too cold, and there are safety issues to consider, such as the potential for a fire or release of carbon monoxide. However, a furnace repair service company will charge more for expedited service. It may also increase labor costs whether the job entails minor repairs or replacing a major component.
Furnace Maintenance Costs
A furnace inspection and tune-up can prevent more costly repairs, so it can save you money over time. Regular maintenance helps your furnace run more smoothly. It can reduce energy consumption, avoid an unexpected breakdowns, and help your heating system last longer, as well as improve comfort and indoor air quality. However, an inspection can cost $50 to $100, while a tune-up can cost at least $100 to $200; on top of a minimum service fee, the contractor will charge for labor (typically between $75 and $125 per hour).2
Call Jay's Heating, Air & Plumbing for Furnace Repair Service
Property owners in Mount Airy depend on us for 24-hour emergency repair services. When your furnace won't control the temperature in your home, makes noise, cycles too often, or doesn't turn on at all, our NATE-certified technicians will arrive promptly to fix it. They provide honest upfront pricing and are skilled with common types of furnace repair. To request an appointment or help in an emergency, call (336) 652-3309.