Will Keep You in Hot Water!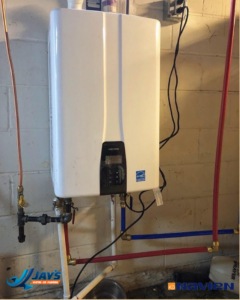 No hot showers or baths. No clean clothes or dishes. A household in utter chaos. These are the problems you can expect when your water heater fails. At Jay's, we're the fast, friendly and experienced team that can repair or replace that hot water heater in a jiffy.
Here are some warning signs that your water heater needs a repair:
It's leaking. If you've checked the connections, fittings and temperature pressure relief valve and can't find the problem, it's time to call in the experts.
It's making strange noises. If your water heater is making popping, crackling or rumbling sounds, something is definitely amiss.
It's more than 8 years old. A water heater's average lifespan is 8 to 14 years. If your water heater is showing its age, it's time to give us a call.
It's less efficient. This is a clear sign your water heater needs to be repaired or replaced.
Your water is discolored, tastes strange or smells weird. These are all warning signs that something has gone awry.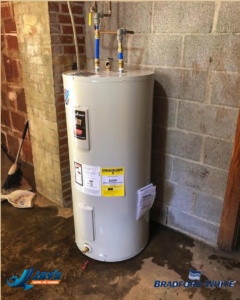 The team at Jay's is never pushy and is always focused on what's best for you. That's why we'll recommend a repair over a replacement when a repair makes the most sense. Either way, we'll use our decades of experience to provide you with the right solution. When a replacement is in order, we'll help you determine the right make and model, taking into consideration the size of your family, your hot water needs and your budget.
Want to make sure your water heater gets the maintenance it needs? Sign up for one of our affordable maintenance plans.
Is Your Hot Water Taking a Nosedive? Schedule Service Today!
Don't go out on a limb! Trust Jay's for your water heater repair, replacement, installation or maintenance! Call us at 336.690.5253 or use our convenient contact form to reach us.