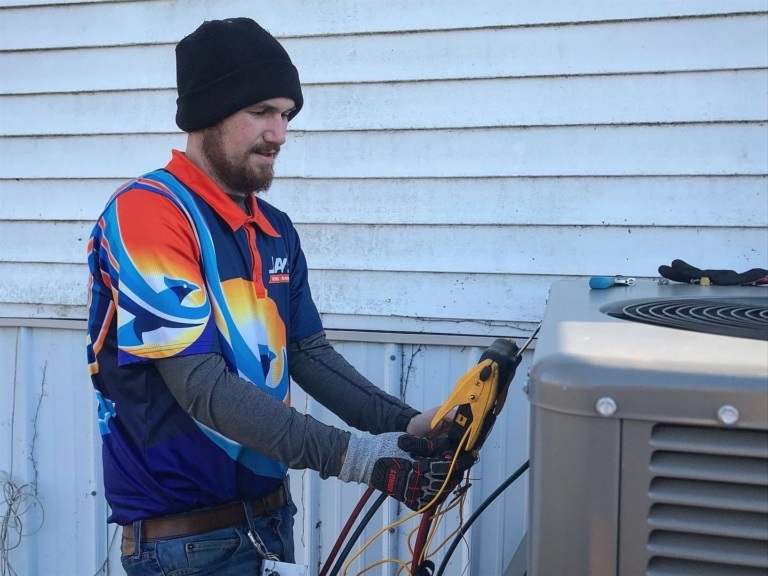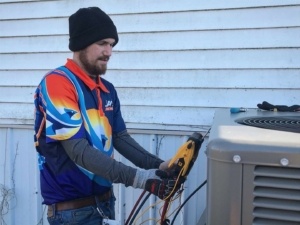 If you require residential or commercial furnace repair in High Point, NC, turn to the team at Jay's Heating, Air & Plumbing. Does your home or business suffer from uneven or insufficient heating? Maybe you've noticed that your furnace runs constantly or that your heating bills have been steadily increasing? We can help you overcome these and other common heating issues. No matter what problems you're facing, our furnace service experts can diagnose and fix the issue to ensure your heating system is functioning at its optimal level.
Furnace Repair You Can Trust
Even the most comprehensive maintenance plan won't be able to prevent all issues. This makes it essential that you know what signs to look out for and also whom to call when you need furnace repair. Issues such as not being able to get your furnace to turn on or having it blow cold air out of the vents are obvious signs that you need to schedule furnace service.
You should also be on the lookout for any of these other issues that can indicate you need furnace repair.
Unexplained spikes in your energy bills during winter
Loud noises or strange smells coming from your heating system
A pilot light that is yellow instead of blue
The furnace turning off before completing a full cycle
The furnace running constantly
Most furnace problems are fairly minor and can be repaired in just a few hours. Although these problems can pop up at any time, older furnaces are generally much more prone to problems. Most furnaces should last anywhere from 15 to 20 years if properly maintained, but the need for repairs tends to greatly increase the older the unit gets.
The Best Furnace Service in High Point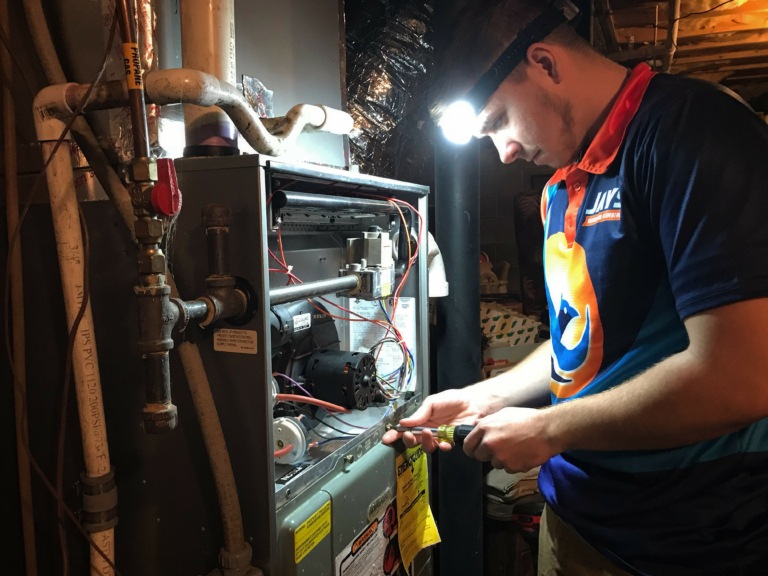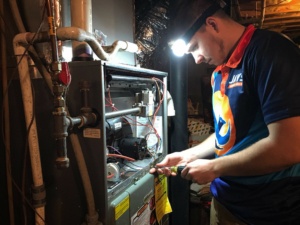 Whether your furnace won't turn on or it is simply not providing adequate warmth, the team at Jay's Heating, Air & Plumbing has the knowledge and experience to diagnose and repair whatever issue you're facing. Our HVAC company technicians are competent to work on any major make, brand, or model. All of our technicians are ready to ensure you receive the highest quality of service and support. This is evidenced by the many outstanding reviews we have received on Angi and HomeAdvisor. We are located on Greyhound Road in Mount Airy, and we serve residential and commercial customers in High Point and throughout the Winston-Salem area.
Contact us today to learn more about our heating services or to schedule a furnace repair appointment. We also provide furnace installation and maintenance services, as well as AC repair.