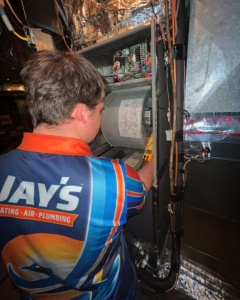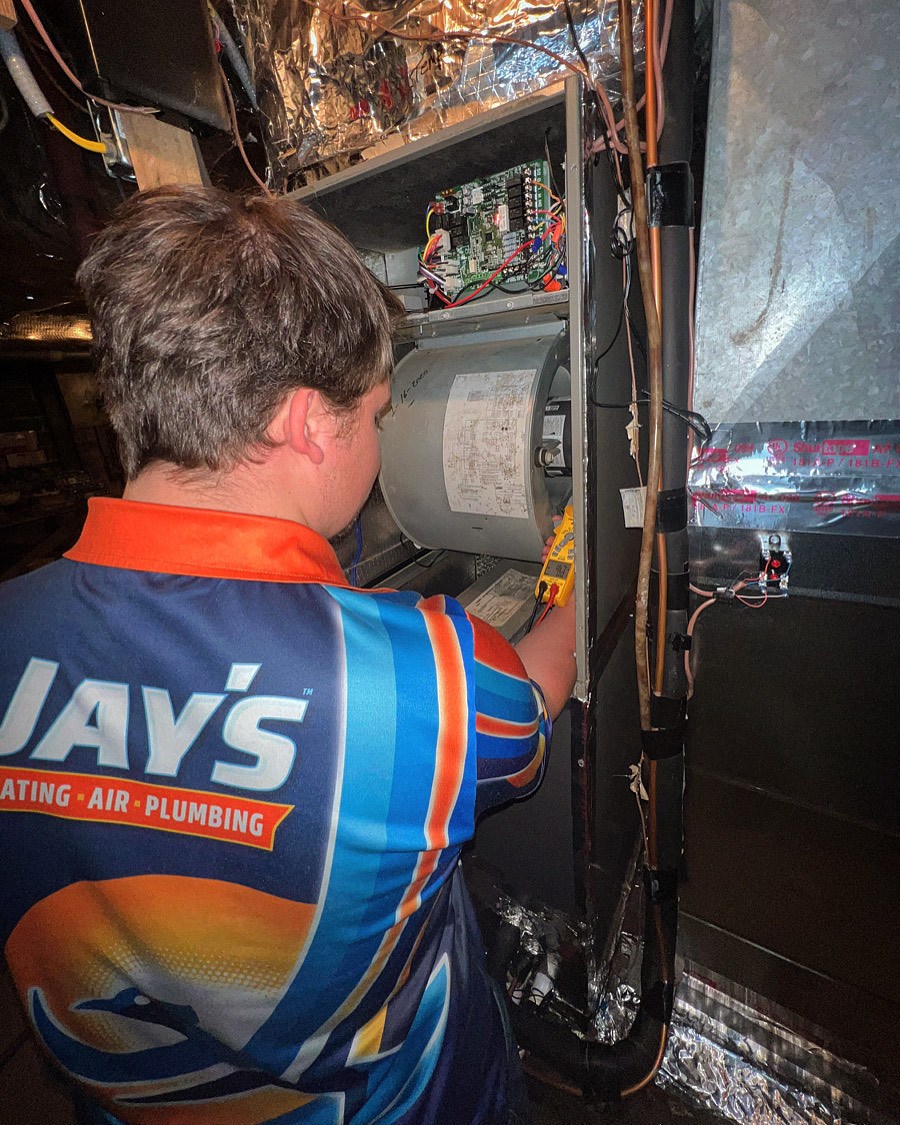 It may be time to schedule AC maintenance in Lewisville, NC with Jay's Heating, Air & Plumbing. Possibly you've observed that your air conditioning unit has insufficient airflow, or maybe it's going through frequent cycles. These signs indicate that you need maintenance services to keep your system running correctly. You don't have to wait until your AC system malfunctions to have it checked. Enduring the discomfort of an AC breakdown can be stressful, and it may cost a lot of money. At Jay's Heating, Air & Plumbing, we understand that keeping your system in good physical condition can help you save a lot. We're experts in providing HVAC maintenance in Lewisville and the surrounding area.
Professional AC Maintenance in Lewisville
If you need your system to run more efficiently and remain in good physical condition, you should have a professional HVAC technician conduct regular maintenance. During maintenance service, the technician will perform a full inspection and clean your system. This helps identify any obvious signs of damage that can be fixed before they become a real problem.
An AC maintenance examination involves a general operation assessment to ensure that your AC unit begins, operates, and shuts off correctly. Cleaning and adjusting all blower components to help maintain proper airflow is also part of the process. Our technician will check your refrigerant levels and clean the condenser and evaporator coils as well.
There are various benefits of regular AC maintenance:
Fewer costly repairs and service calls
Increased energy efficiency
Longer system life
Enhanced indoor air quality
Greater comfort
Regular checkups of your system, including a thorough visual inspection by a technician, is the best way to maintain good air quality for you and your family. Additionally, a professional can help you prevent minor problems from developing into bigger ones, such as those that could potentially result in breakdowns. Count on us to help keep your HVAC system functioning correctly.
Reliable HVAC Maintenance Team
At Jay's Heating, Air & Plumbing, we are a full-service HVAC company with years of experience serving Lewisville and the surrounding areas. We understand that good support for your AC unit is essential for a comfortable home. Our NATE-certified technicians have received extensive training to ensure that your system remains in good working order. Your comfort and peace of mind are our number one priority.
You can count on us to help you protect your HVAC system with regular check-ups. We work on AC systems of all makes and models.
If you're ready to schedule HVAC maintenance in Lewisville, contact us at Jay's Heating, Air & Plumbing to set up an appointment. We also offer AC repair and installation services.
It is also recommended to have your heating maintenance performed before winter starts. Call us to schedule your annual furnace tune-up!