Whenever you need an excellent partner for your AC repair in Kernersville, NC and neighboring areas, the highly-trained technicians at Jay's Heating, Air & Plumbing are ready to help. Summers in Kernersville tend to be hot and muggy. You rely on your efficient AC system to maintain optimal temperatures and humidity levels in your Kernersville home. However, your air conditioner can fail due to a faulty circuit breaker, low refrigerant, leaking refrigerant, or dirty coils.
When it fails, it will affect the level of comfort in your home and even disrupt your everyday life. Failure to have your air conditioner repaired as soon as possible may result in costly repairs and increased energy bills. Whether your air conditioner is struggling to cool your home due to faulty circuit breakers, leaking refrigerant, or frozen evaporator coil, our skilled technicians will diagnose and provide premier AC service to restore comfort and prevent costly repairs.
Your Dependable AC Service Team
Your air conditioner should provide exceptional cooling for approximately 15 to 20 years. However, the lack of regular performance can reduce the efficiency and longevity of your unit. Like any other home comfort equipment, your AC can also develop an issue that will hinder its performance. Air conditioners fail due to low refrigerant, electrical problems, faulty circuit breakers, thermostat issues, dirty coils, or worn-out parts.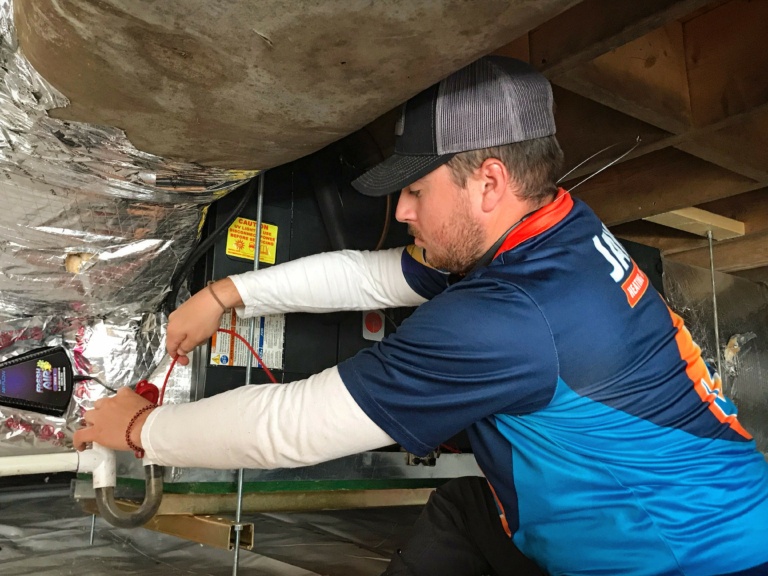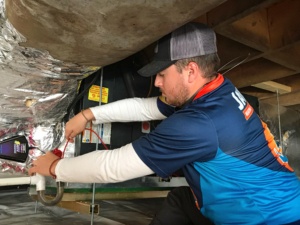 Signs your air conditioner requires immediate repair:
Warm air
Frequent cycles
Insufficient airflow
High humidity
Water leaks
Insufficient airflow is an indication that your air conditioner has a faulty motor or a clogged air filter, and running your unit with such a severe problem can result in costly repairs down the line. Instead of dealing with expensive repairs, let our skilled technicians quickly fix the issue for you. We will inspect your unit and use our expertise and innovative tools to perform the necessary repairs.
Trustworthy AC Repair in Kernersville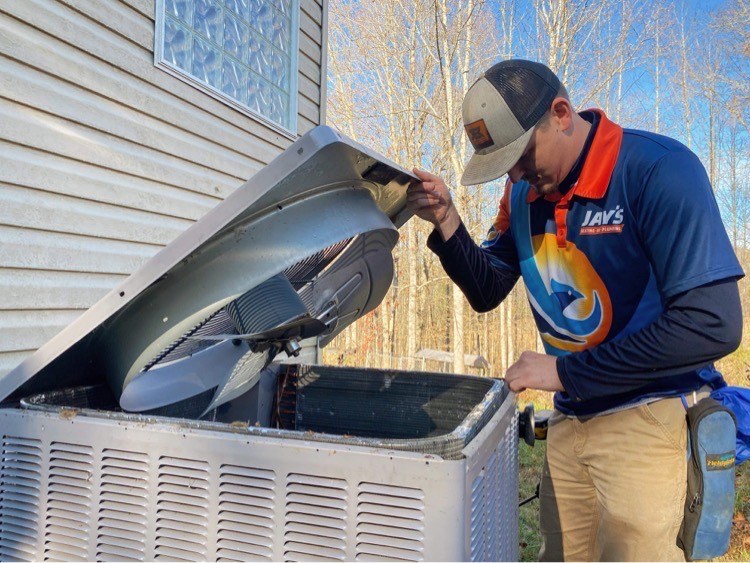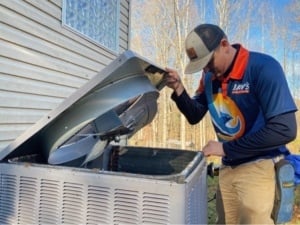 As the premier AC repair team in Kernersville and the surrounding areas, Jay's Heating, Air & Plumbing is proud to offer the highest quality air conditioner repair services. Since 2005, our NATE-certified technicians have provided exceptional services to business owners and homeowners in Kernersville. We have earned an A+ BBB rating due to our commitment to providing reliable air conditioner repair services. From the initial appointment to repairs, you can expect our skilled and friendly technicians to provide great value for your money. We emphasize 100% customer satisfaction here at Jay's Heating, Air & Plumbing.
Whether you live near Somerset Communities, Shell-Shaped Shell Station, Korner's Folly, Kernersville Museum, or anywhere else in our beautiful town, our AC service team is on standby, ready to repair your unit.
Our neighbors in Kernersville and surrounding areas deserve the highest quality air conditioner repair services. Contact Jay's Heating, Air & Plumbing to request dependable AC repair services. We also provide AC maintenance and installation.
Need help with your heater? Call our team today for fast and efficient furnace repair.