What's included in the installation?
The most important day of your new HVAC system is installation day. How a system is installed and what material used will determine the longevity and efficiency of your system, which will reflect in the overall cost of ownership.
Our Jay's Installation is designed to keep the cost of ownership as low as possible while taking your home comfort to new heights!
Here is what Jay's includes in their installs -and what other companies charge extra for.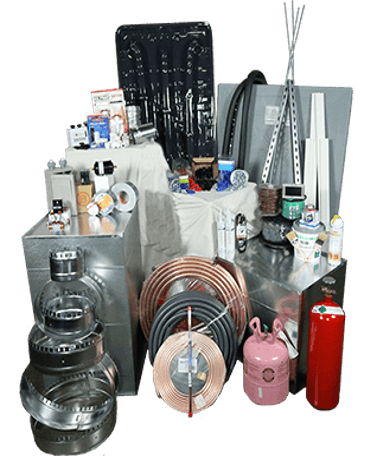 Scope of Work: Other companies won't put this in writing because they charge extra for it.
Perform Home Engineering Analysis (Load Calculation) via Manual J guidelines to ensure proper equipment sizing.
Perform Airflow Ductwork Analysis to ensure proper airflow delivery.
Protect home with floor covers and drop cloths.
Remove & Replace existing system with new AHRI rated system.
Install custom uni-strut hangers to support system/drain pan. (If applicable)
Install a new secondary drain pan with vibration isolators. (If applicable)
Install new custom fabricated duct distribution boxes (plenums) matched & sealed to the flange of the air handler to prevent air leaks.
Install condensate overflow safety switch.
Install new condensate EZ-trap with cleanouts and brush for ease of maintenance.
Supply & Install a heavy-duty electrical cord or service disconnect for the air handler.
Supply & Install a new thermostat.
Supply & Install a new weatherproof military grade composite pad for outdoor unit.
Set all heat pumps on 3-6in risers to elevate heat pump for proper draining
Supply & Install new service disconnect & electrical conduit whip from disconnect to outdoor system.
Supply & Install new breakers that is properly rated for the new indoor & outdoor system.
Supply & Install Service Disconnect with integrated surge suppressor.
Flush existing line set to remove debris and mineral oil in preparation for R410a refrigerant (if line set cannot be changed)
Replace line set with new Copper Refrigerant Line set with UV resistant polymer coating where applicable.
Purge nitrogen through refrigerant tubing while brazing connections to prevent carbon buildup.
Evacuate system/line set and achieve a standing vacuum below 500 microns.
Supply & Install mastic sealant on all metal duct work connections.
Re-insulate refrigerant lines outside and in the attic where applicable.
Startup and charge heat pump equipment according to manufacturer's specifications to attain rated efficiency.
Flush and Test Condensate line to ensure drains are free of debris
Rebuild/replace attic access trim. (As needed)
Set-Up customer remote access for a smart thermostat where applicable.
Set-Up customer-defined heating and cooling schedules.
Remove all waste from the interior of the home & work areas.
Haul away & recycling of existing equipment per E.P.A. guidelines.
Post-installation system inspection forms to be emailed to the customer
Register equipment to activate extended warranties.
Process applicable utility rebates. (As needed)
Setup basic remote system monitoring.
Final site visit by Comfort Advisor for performance and quality review.
Complimentary one-year Gold Level preventative maintenance to cover one-year maintenance (2 visits).
Whew, that's a lot of stuff!
Don't worry if you skipped though some of it, but you might wonder why we itemize and include all of these procedures and accessories? According to EnergyStar, 70% of a systems life expectancy is determined by how the system is installed. Our scope of work holds us accountable and gives our customers peace of mind that their system is installed correctly and will last for years to come. The price you see includes all these items, usually sold by other companies as an option. That is a Jay's install!