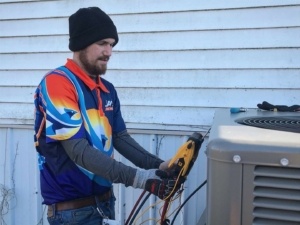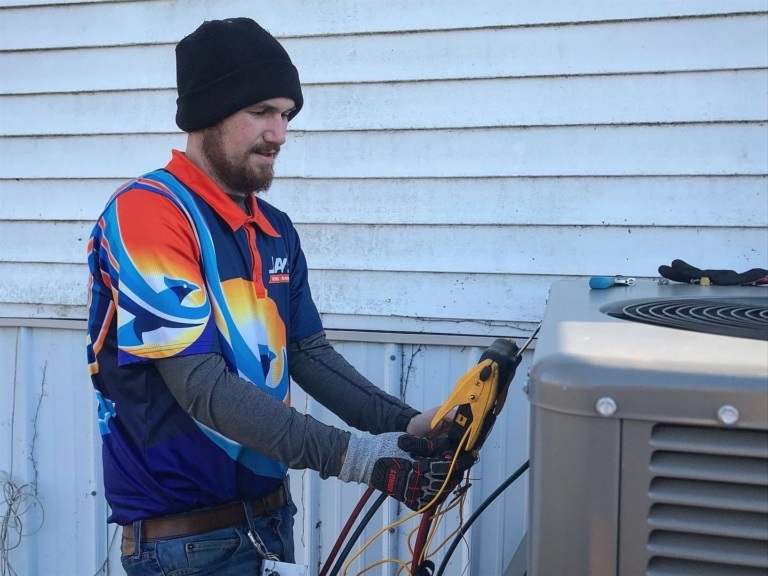 As temperatures drop below freezing in King, NC, several things may cause an unexpected breakdown calling for heating repair. Sometimes the issue is as easy to fix as a thermostat which requires calibration or proper device placement. Faults could also be a sign of systemic problems developing within your furnace.
Regardless of the fault, it is wise to schedule furnace service promptly to avoid a total system failure in King. You can find us on West Pine Street off of Greyhound road, four minutes from Hardin Taliaferro.
Timely Heating Repair Services in King
It is always advisable to fix the most apparent issue before troubleshooting other parts of the system. If your furnace is not producing warm air, ensure the thermostat fan setting is on 'auto' rather than 'on.' Otherwise, the fan will keep running even where the system is not generating heated air.
If the thermostat is faulty, a technician can verify its function. An efficient device is a critical part of your heating system's temperature regulation. A professional evaluation can determine if a replacement is necessary to restore your home's comfort.
Like all systems, your furnace may succumb to wear and tear. Some of the benefits of organizing prompt repairs include:
Enhance indoor comfort
Reduce your energy bills
Save on future repair expenses
Ensure your safety systems are working
Timely repairs can unearth issues, such as airflow restrictions, which can increase energy consumption. A broken furnace could also pose carbon monoxide hazards. If you ignore the problem, it may force components of your system to overwork. Eventually, you will have to organize for more extensive repairs.
Even unusual noises from your system could point to a developing mechanical or electrical problem. Fixing it on time prevents further deterioration of parts. A professional service can address faults with your electrical system to prevent residential fires.
King's Professional Furnace Service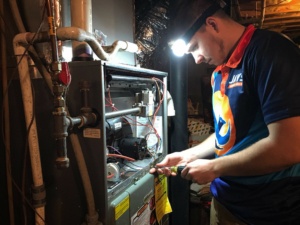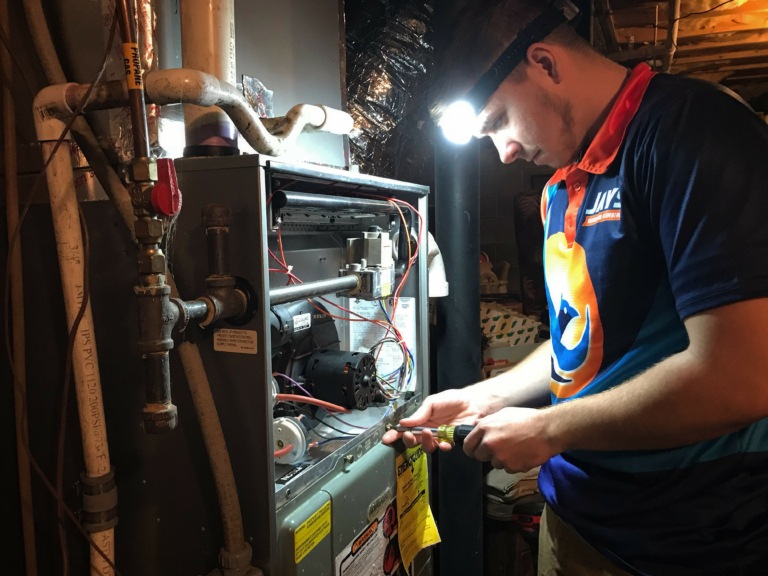 For punctual furnace services in King, you can rely on Jay's Heating, Air & Plumbing top-rated team. Our NATE-certified repair crew has a reputation for professionalism and reliability. We are a Trane Comfort Specialist and a Lennox Premier Dealer, but our team can handle any model of heating equipment.
Our staff will take the time to answer your questions and provide valuable insights to improve your furnace's performance. We offer flat rate pricing and a 100% customer satisfaction guarantee.
For timely heating repair services, talk to our staff in King. We offer 24/7 emergency repair services.Not looking for heating repair? We also provide emergency AC repair services.
Is your furnace past its life? Our team can provide dependable furnace installation services.
Does your furnace need a tune-up? Call us for outstanding furnace maintenance solutions.